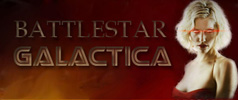 This site is mainly about my favorites. I'll start by giving you my favorite sci-fi. This site is a way for me to learn more about making web sites, showing off my new Photoshop skills, telling the world what's on my mind, and .... oh, that was pretty much it. All of the actors presented in the different sci-fi pages I'm the editor of over at tv.com I'm just saying...'caus I did their bios/ trivia on that page, and I'm not stealing by placing my work here aswell.

Hey, while you're here, please sign my guest book, and I'll answer your post :)This site will be constantly under construction, so check back for new stuff. I'll ad a section about myself some time soon, but not yet. Perhaps tomorrow... who knows?

And how did I learn to build this site? THIS would be a very good place to start, if you're going to build a webpage without 'what you see is what you get' programs. I learned from that site how to make it a little harder to copy the text on this site. I don't mind if you use my pictures. You may use them as you please, but it would be nice if you actually downloaded them to your own computer, and then uploaded them to your own webspace. Don't link directly to the pictures on this site.